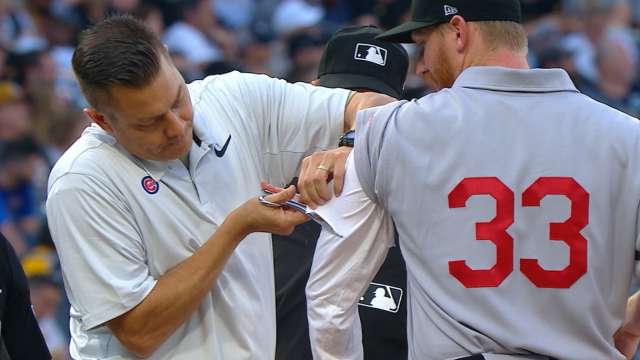 The Chicago Cubs and Pittsburgh Pirates paid tribute to the Negro Leagues Friday night but not before some alterations were made at the start of the game.
The Pirates held their annual Negro League Heritage game Friday night. The Pirates wore the uniforms of the Homestead Grays. A team that was formed in 1912 and originated in Homestead, Pennsylvania. In the 1920's the team moved across the Monongahela River to Pittsburgh and started playing games at Forbes Field.
The Cubs wore uniforms representing the Leland Giants which you can see in the picture above. The team was originaly called the Chicago Union Giants and  was formed when the Chicago Unions and the Chicago Columbia Giants merged in 1901.
The Cubs throwback uniforms came complete with white long-sleeve shirts to wear under the jersey. That turned out to be a problem when starting pitcher Eddie Butler took the mound. Major League rule prohibit pitchers from wearing any white on their sleeves while on the mound. It makes it difficult for the batter to pick up the ball. So the sleeves had to be cut off before Butler could go to work. It all worked out for the Cubs though as they ended up winning 9-5.
Please follow and like us: